Atomizer Gearboxes. Rebuilt Like New.
RPM Solutions manufactures new and rebuilds planetary atomizer gearboxes. The following pictures show the before and after of a typical atomizer gearbox rebuild. RPM currently rebuilds and stocks parts for 2.65, 2.95, 3.21, and 3.672 planetary gearbox ratios.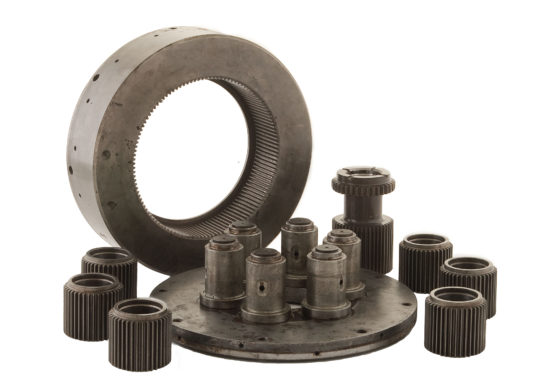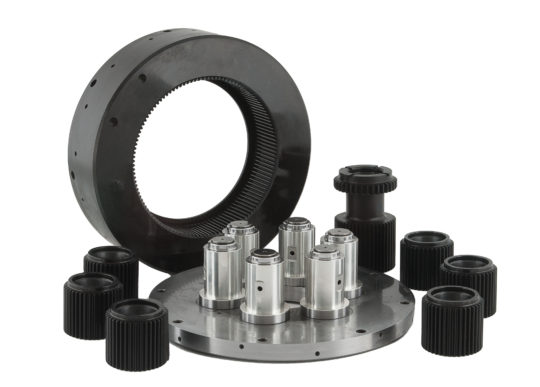 Partial list of work to be performed:
Inspect all components with coordinate measuring machine to establish and determine condition of gearbox.
Magnetic particle inspect all gears.
Grind and relieve any chipped areas of gear teeth.
Black oxide all gears for corrosion protection and for visual gear teeth wear patterns.
Hone gear bores to remove defects and size them to a nominal size.
Remove spindles from carrier plate
Machine existing Babbitt material from each spindle. Machine in relief around oil hole to maintain consistent thickness of Babbitt throughout the entire face of the spindle. This eliminates the thinning of the Babbitt around the oil holes of the spindles.
Apply new Babbitt to carrier plate spindles.
Final machine Babbitt spindles to match the bores planet gears.
Final inspect with coordinate measuring machine to verify tolerances are met.
Rebuild of Atomizer Coupling Part
RPM Solutions repaired this atomizer coupling gear part by laser welding the worn surfaces and grinding those surfaces back to the proper tolerances. Laser Repair Technology (LRT) is a process owned and operated by our sister company RPM and Associates. The base material of this part was not acceptable to other welding techniques. Thermal spray or chroming process would only produce a mechanical bond with the base material which may flake or fail during operation. The laser welding is a metallurgical bond with the base material which made laser welding a perfect fit for this application. The dilution into the base material is minor and distortion is very minimal.
Key Points of this project
Base material not acceptable to typical welding techniques.
Spray processes are mechanically bonded to the base material.
Spray materials have a tendency to crack and flake during operation.
Laser applied material is metallurgically bonded to the base material.
Material dilution into the base material was consistent, controlled, and minimal.
Laser applied material created minimal distortion to the component.